What does the Deutsches SOFIA Institut (DSI) do?
The Deutsches SOFIA Institut (German SOFIA Institute, DSI) at the Institute of Space Systems (IRS) coordinates the operation of the infrared observatory SOFIA (Stratospheric Observatory for Infrared Astronomy). Especially interesting objects for SOFIA's observations are galaxies, star forming regions, the interstellar medium, our solar system, planets and comets.
DSI is led by Professor Alfred Krabbe. You can find more information about the research being done under his professorship in Airborne Astronomy and Extraterrestrial Space Flight Missions on the IRS research pages.

Contact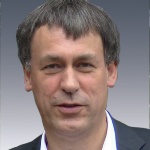 Alfred Krabbe
Prof. Dr. rer. nat.
Professor of Airborne Astronomy and Extraterrestrial Space Missions, Head of the Deutsches SOFIA Institut